Halogen reflector Security 3-piece set silver 3x50W GU5,3
£9.00*
Prices incl. Standard rate VAT
Ready to ship, delivery within 3-5 working days
Fast shipping
Free returns
leitet 80% der Wärme nach vorne ab
ideal für Einbauleuchten
Halogen reflector Security 3-piece set silver 3x50W GU5,3
Thanks to a special coating, a security reflector lamp gives off 80% of the radiant heat to the front. It is thus ideal for use in recessed luminaires, as the temperature in the suspended ceiling is significantly reduced.
leitet 80% der Wärme nach vorne ab
ideal für Einbauleuchten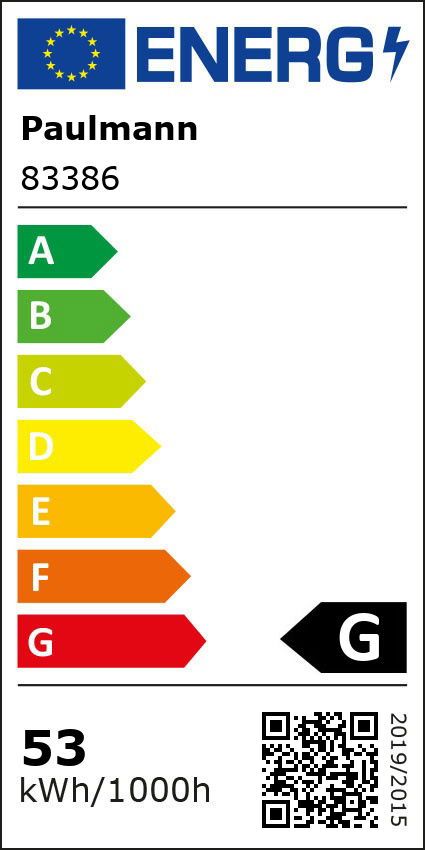 Dimension
Dimensions (Height x Width x Depth)
H: 46 mm
Ø
51 mm
Design and Material
Colour
Silver
Energy consumption
energy efficiency (A to G)
G
Energy consumption
53 kWh_1000h
Service life
luminous flux at the end of lamplife
85 %
Number of switching cycles >=
16000
Lamp lumen maintenance factor at 75% lifetime
85
lifetime
4.000 h
Rated life time
4000 h
Light Characteristics
Color temp.
3000 K
Beam angle
38 °
Useful luminous flux
680 lm
color temp
3.000 K
Color rendering index
100 Ra
Rated peak intensity
1300 cd
Luminous intensity
1.300 cd
Rated luminous flux (Lumen)
680 lm
Lamp Features
Component parts
50W
Technique
12V Halogen
Socket
GU5,3
Type
Reflector
Dimmable
with dimmer R, L, C (universal compatibility)
Number of component parts
3x
Replacable
7 not concerned.
Labelling
WEEE-Reg.-No
DE 39236390