Switching to LED: Here you can find out more
1. LED and halogen: Differences in light technology
The halogen has long since been accepted as a slightly more cost-effective successor for the traditional incandescent light bulb, which was phased out and step-by-step been taken off the market entirely since 2009. Halogen lamps with their very similar warm white light and the fact that they were dimmable, soon replaced the old standard light bulbs in many homes.
But there was another light option that emerged at the same time: LED. Unlike halogen lamps, LEDs (or Light-Emitting Diodes) are not so-called thermal radiators that generate light with matching heat.

At first, LED lamps were undesirable because of their higher price. In 2016, however, the EU prohibited the sale of halogen lamps in the standard E27, E14 and other base versions to push the introduction of modern LEDs into households.

2. Replacing halogen with LED: Save money and the environment
But what exactly makes LEDs so much better than halogen? For one, LED lamps consume around 75% less electricity than regular halogen lamps. A switch from halogen to LED will therefore lower the energy costs for households, and make electricity bills a lot more manageable.
But LEDs don't just consume less energy. They also offer a much longer service life than their halogen counterparts: while a halogen lamp has an average life expectancy of around 2000 hours, an LED will reach at least 10,000 hours. In other words: if you were to switch on an LED lamp for 2.7 hours every single day, it would last for 10 years. And since LEDs have also come down in price drastically, they have a considerable positive effect on the environment and your wallet.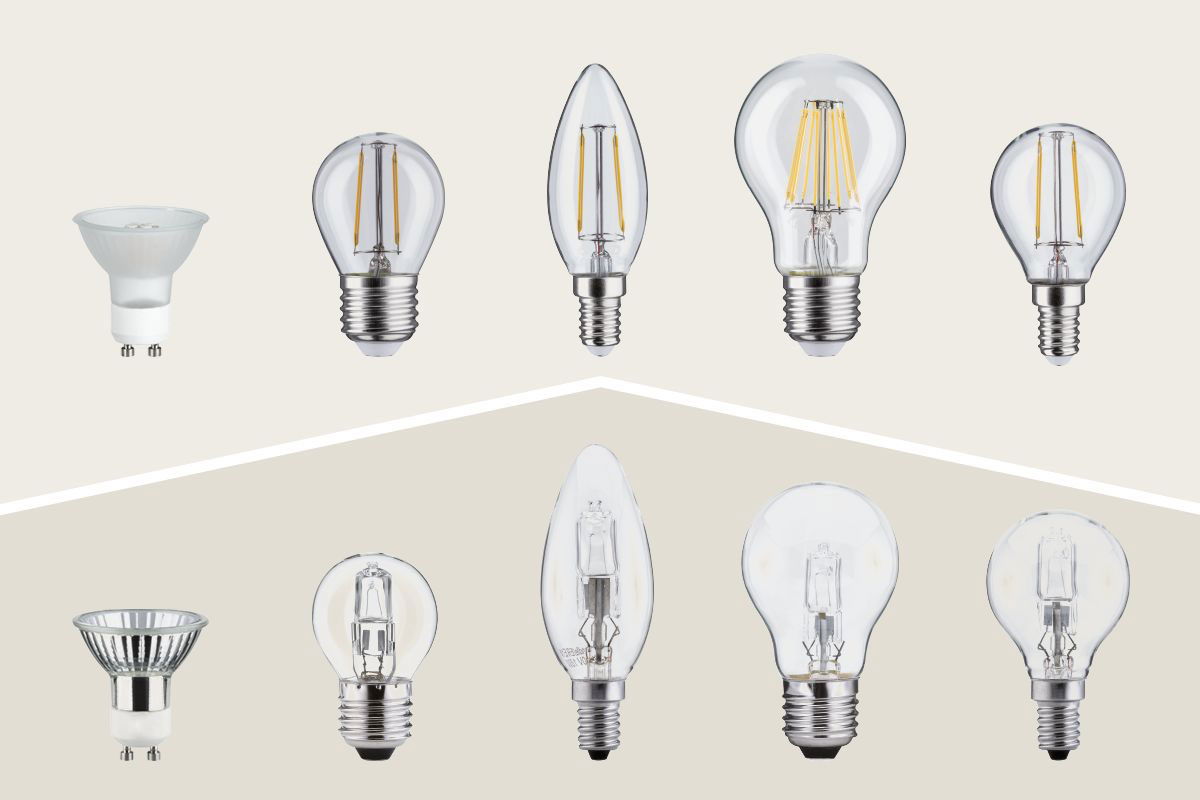 3. How to I find the right LED to replace my halogen lamp?
Once you have decided to go ahead with the switch, you still have to find the right LEDs to match your luminaires. That sounds more difficult than it is: Unscrew the old lamp from its base and use it as your guide. Every LED with the same base will fit exactly where your old halogen bulb used to be. That is because most LEDs are now designed for retrofitting, meaning in addition to the screw base, they also now have the same corn sizes.

4. Isn't LED light much too cold?
Absolutely not. For a very long time, LED had a bad reputation. Their light was supposed to be too bright, too harsh and too cold. But LED technology has come along in leaps and bounds since then to meet the needs of consumers – now they shine with the same light colour as incandescent light bulbs: 2700 Kelvin. You can now also buy retro LED lamps with colour temperatures of just 1800 Kelvin – their warm, golden light is just like candle light and many people find it particularly attractive and comfortable.

5. Can I still dim my luminaires after the switch to LED lamps?
Many LEDs can be dimmed just like their halogen counterparts. They are labelled accordingly on the product packaging and you can access lists for compatible dimmer types. For some LED lamp types, i.e. those with the practical 3-step-dim function, a wall switch with dimming function has become completely unnecessary. They change brightness in increments by switching them on and off. And then there are smart LED lamps that are dimmable via remote control, voice control or app.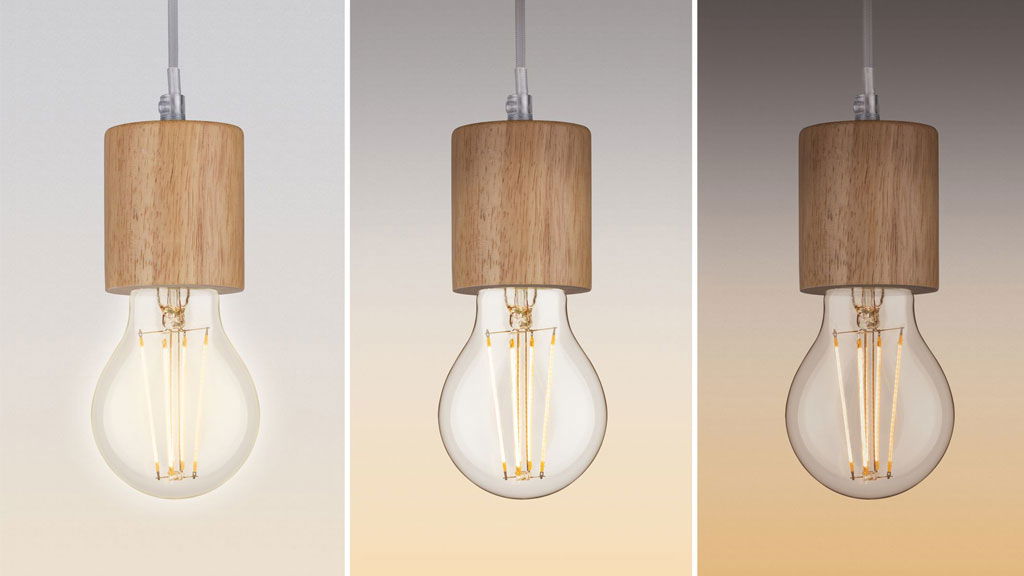 6. Create colourful mood lighting with LEDs
And there is so much more you can do with smart LEDs than just adjusting their brightness. An RGB or RGBW setting will create a unique ambiance for watching TV with the family, spending time with your friends or for a romantic evening for two.

7. Outlier: Halogen recessed spotlights – how to make the switch easy
The switch to new LED recessed spotlights is a little more complicated than just replacing a light bulb, but still not rocket science.
The key points at a glance:
Use your old halogen ceiling spotlight as your guide. The new LED lamp type and the base must match the old.

Look for the label for dimming capability on the packaging if you want to dim the lamps in future.

Choose LED recessed spotlights with the same lumen value as the old spot to guarantee the same brightness after your switch to LED.

The new LED ceiling spots may no longer reach the minimum load for your transformer. The max. output of a transformer is expressed in volt ampere (= VA) or in watt (= W), which is the same value. The total output of your new LEDs should reach at least the lower load limit and max. 60% of the upper load limit. You can see the wattage of your new lamp on the product packaging.
You've got 6 recessed halogen spotlights and a transformer with a load capacity between 35 and 105 VA (or W). You go and purchase 6 new recessed LED spotlights with 8 W power consumption each. You would therefore have a transformer load of 48 W. The switch from halogen to LED will not be a problem. If, on the other hand, you originally only had 3 installed recessed spotlights, the new LED spots would only reach a total load of 24 W – which would mean you would have to buy a new transformer.

Watch our video with Jens, who will show you how you do the actual switch of your ceiling spots to bring your home up to speed.

Key Points for the Halogen to LED Switch-Over
Use your old halogen lamp as your guide if you want to install a new LED lamp. Simply choose the same lamp type and base.

Make sure you see "dimmable" on the packaging if you still want to be able to dim your luminaires after the switch-over, as this is not standard for all LED lamps.

LEDs consume on average 75% less electricity than a standard halogen lamp and have five times their service life. Your wallet and the environment will thank you!
In the case of recessed spotlights, you will have to keep an eye on minimum and maximum load capacity of your transformer. Choose LED recessed spotlights with a total output of no less than the transformer's minimum load and no more than 60% of its maximum capacity. You will have to buy a new transformer if your new LED lighting doesn't fit within that range.