Bathroom lighting: What's important?
1. Where can I install light sources in my bathroom?
Light harmony, with basic, zone and accent lighting working together, is just as important in the bathroom as it is in any other room of your home. Find out here, which LED luminaires are the right choice for which area of the bathroom.
LED panels are also a good option if a suspended ceiling is not an option. These modern and very flat bathroom luminaires emit diffuse light to ensure uniform basic lighting in the bathroom. Diffuse lighting doesn't produce any hard shadows, which is why it is often called "beauty light", making it a good choice for getting ready in the morning.

Many of our mirror luminaires can be adjusted individually to point them exactly at where you want their light.

You could also create some very nice zone lighting with vintage pendant luminaires if you would prefer more of a vintage look in your bathroom. These look particularly well with LED filament lamps with a smoked glass corn or LED gold lights. They emit a warm light, similar to candle light for a warm, comfortable ambiance.
2. Water and electricity: What you need to be aware of when installing your bathroom lighting
IP protection is crucial wherever there's a chance of water and electricity coming into contact with each other. The first digit of the IP number indicates how well a luminaire is protected against particle ingress. The second digit indicates the level of waterproofing of your new bathroom lamp.
Have a look at this IP protection overview for the various areas of your bathroom:
3. How many lumens per square metre are needed in the bathroom?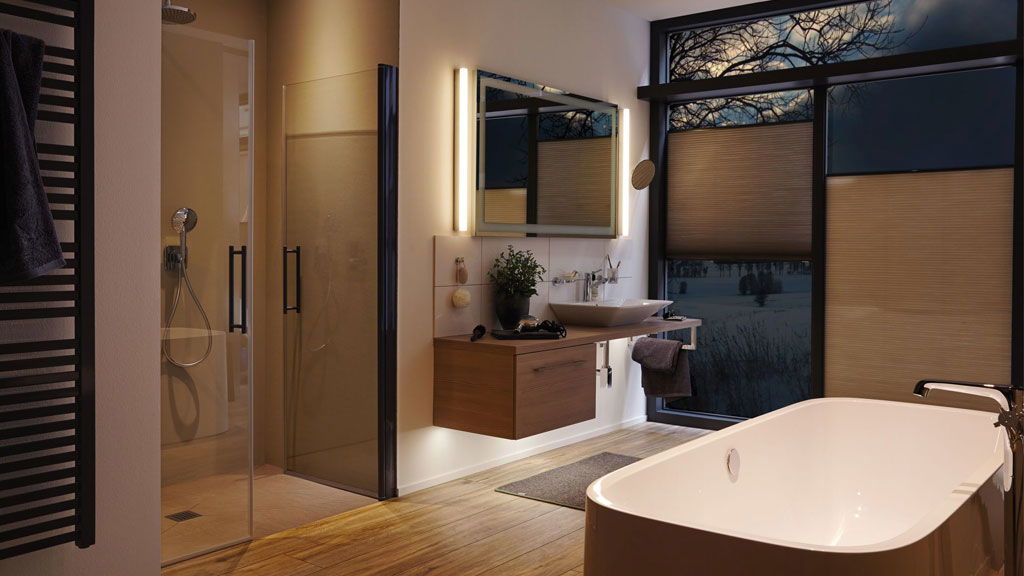 Good lighting in bathroom is a good idea, since this is where you get ready for the day. After all: we all want to look our best when we face the world each morning. Rule of thumb: Aim for 250 - 300 lm per square metre for the bathroom. Depending on how much natural light you get in the bathroom, the brightness of the wall colour and bathroom furniture, you can aim at either the upper or lower limit of that range.

4. The perfect colour temperature for your bathroom
Brightness is not the only thing to think about for a good start to the day. Light colour plays an important role as well. Your bathroom light should be as close as possible to daylight in the morning to help you wake up properly and get ready for your day. We recommend a colour temperature of around 5,300 Kelvin.
When evening comes, things should look a little different: Now your bathroom becomes your oasis for winding down. A relaxing bathroom helps you recover from a stressful workday. Daylight white light in the bathroom would be counter-productive. Instead, you should aim for warm white lamps with a maximum of 3,000 Kelvin.
Use LED panels with a dimming function to get both colour temperatures from the same luminaire. Really practical: Products with a 3-step-dim function will help with choosing the right light colour without any need for a wall-mounted dimmer switch.

5. Smart colour changes in the bathroom
There are – of course – options for Smart Home enthusiasts as well, which can be easily adjusted in terms of light colour and brightness. All you need is a remote control, app or voice control to change from daylight white to a relaxing, warm white light colour. You can also retrofit existing luminaires with smart lamps without any problem. And best of all: All smart Paulmann bathroom luminaires will easily integrate with smart systems from other manufacturers.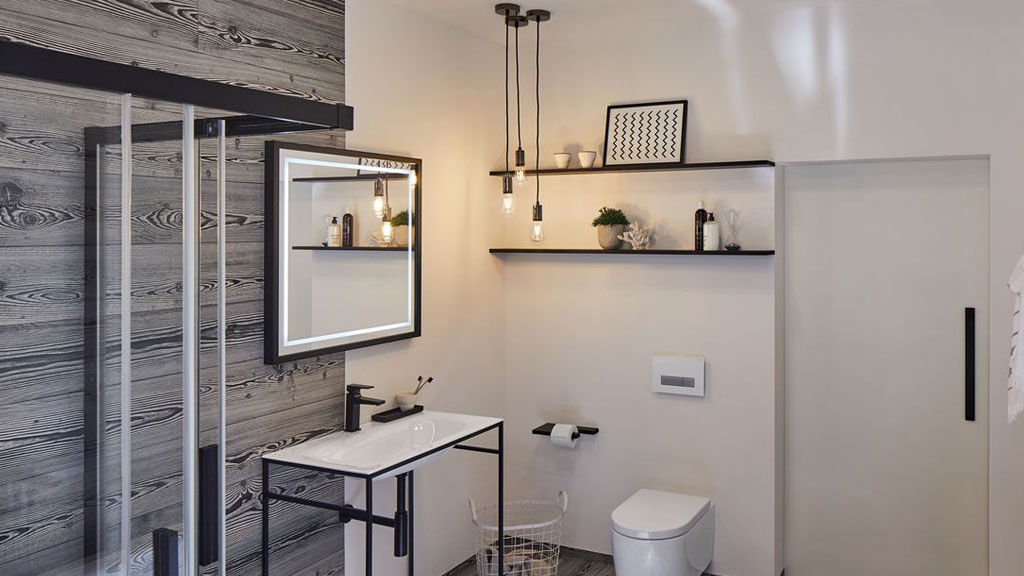 Bathroom lighting overview
Use ceiling luminaires like LED panels or recessed spotlights to create the right basic lighting. Mirror luminaires are great for additional light around the wash basin. LED strips with decorative light accents will help round off the overall look and feel of your bathroom.

The right IP protection in the bathroom is essential:
You will need IP67-protected luminaires n the immediate vicinity of the bathtub and shower.
IP65 will suffice around the fittings for your washbasin, bathtub and shower.
IP44-protected bathroom luminaires will have to be installed at a distance of more than 60 cm to the bathtub/shower, or above a height of 2.25 m.

Aim for a brightness between 250 and 300 lm per square metre, depending on how much daylight you get in your bathroom and the colour of your bathroom interior. Dark furniture or wall colours and tiling will need more brightness than, let's say, white walls and brightly coloured furniture.
Light colour influences the human biorhythm significantly. Try for around 5,300 Kelvin in the morning, which is similar to daylight brightness, while 3,000 Kelvin or less will suffice to wind down in the evening.