Living room lighting – some essential points:
1. Creating a solid foundation: Ceiling luminaires for the living room
Just like any other room, good basic lighting is the key. While people prefer a brighter environment of around 300 lumen per square metre in the kitchen and bathroom, tests have shown that we feel most comfortable with a brightness of 100 lm/m² for the living room. Find out how to calculate how many luminaires you will need in our handy guide on interior lighting.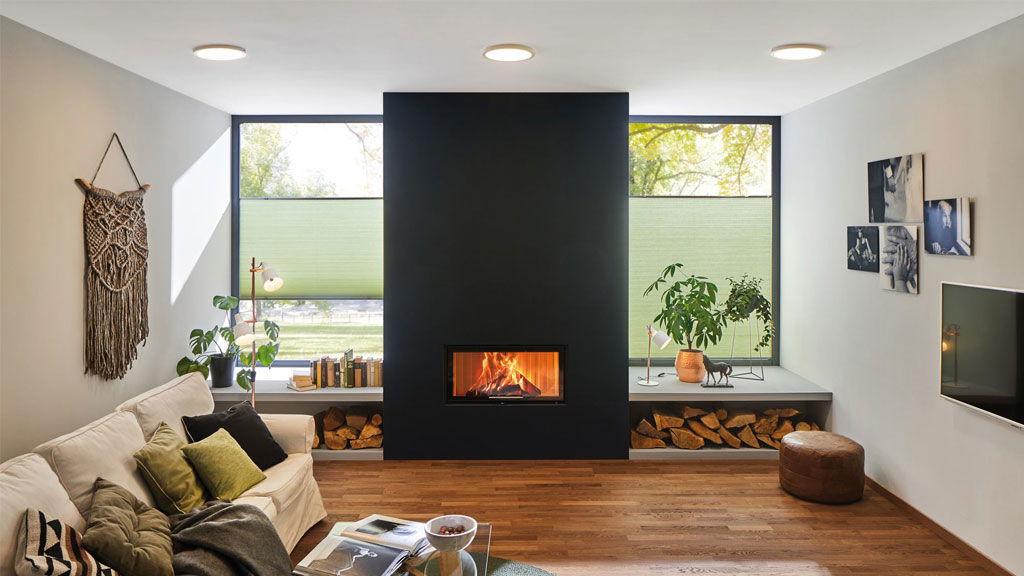 But which type lamps should you choose for good basic lighting in the living room?
Ceiling spotlights have long been a popular favourite for the living room. Placed centrally in the room, the individual spotlights can be directed to effectively light the entire room.

Pendant luminaires are another good alternative for basic lighting if the power outlet is located centrally in the room. Make sure that the light distributed is diffused. Your best choice are pendant luminaires with a glass or (light-coloured) fabric shade. Pendant luminaires with concrete or wooden lampshades are not such a good idea, as they emit their light directly downward in a cone.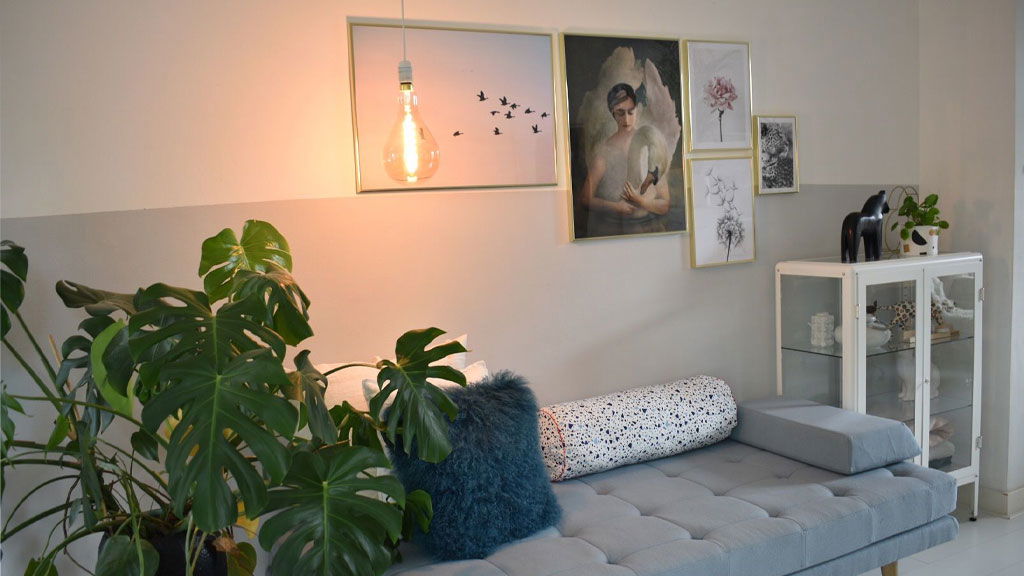 LED panels are another good alternative. The design of these practical ceiling-mounted luminaires is simple, flat and a good alternative for recessed spotlights if you don't have a suspended ceiling to work with. By the way: Many panels come with a 3-step-dim function you can control via a standard wall switch. Now you already have three light settings to choose from!
And on the topic of recessed spotlights: A sufficient number of those will be enough for good basic lighting. Just like the panels, their subtle design is one of the main reasons why they have become such a popular choice in many living rooms. You will need a suspended ceiling with a recess of at least 30 mm depth to accommodate this type of living room luminaire.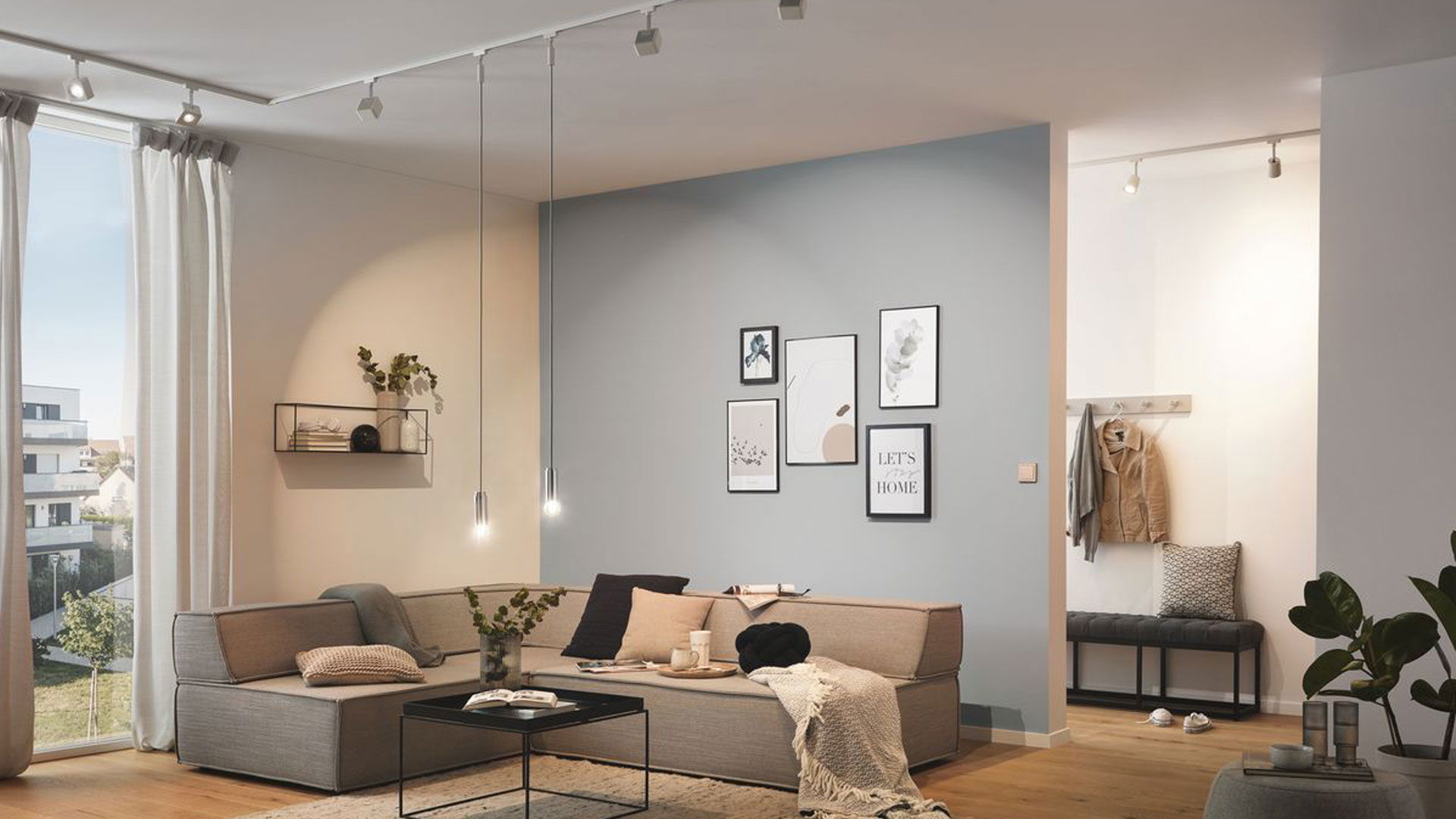 But how can you get your basic lighting right if the power outlet is not in the middle of the room? Don't worry, there are plenty of workarounds for these situations: Cable systems and light rails bring the light from the power outlet to wherever it is needed. Rail systems like URail and NanoRail are extra practical, because you can use them with a wide variety of replaceable luminaires. The way you design your rail system is completely up to you.

2. Creating light zones: Wall-mounted lighting and reading lights
Once you've got your basic lighting in place, it's time to create light zones with additional luminaires. All those areas in the living room, where you and your family spend a lot of time like your favourite reading spot or your lounge area will need some additional light.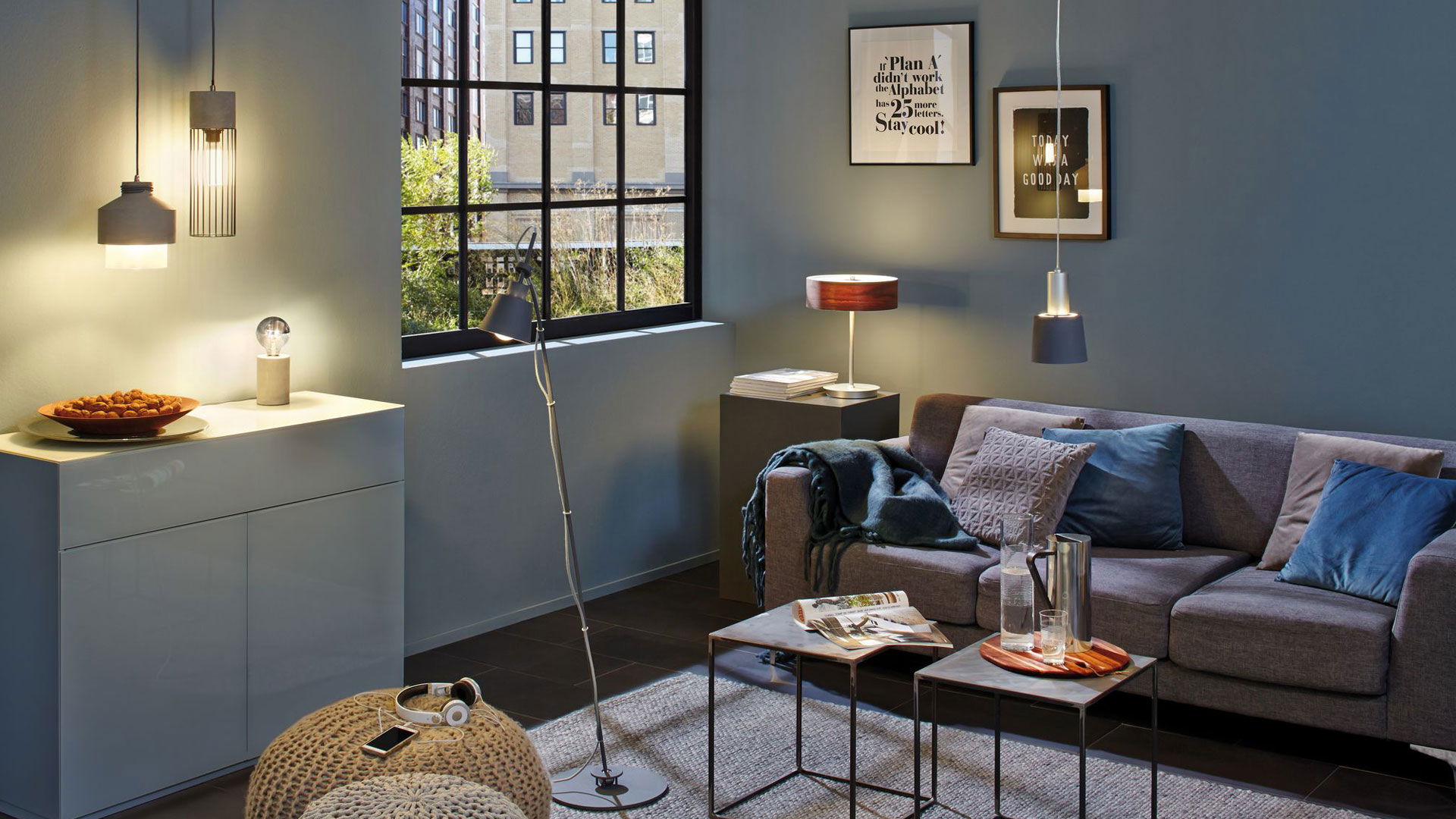 Floor luminaires are a popular choice for a reading nook. Make sure that your living room floor lamp emits direct, glare-free light that you can direct onto your book. A colour temperature of about 3,000 Kelvin is usually enough – anything more strenuous on the eyes will call for a neutral white light of about 5,300 Kelvin. Take a look at our page on colour temperature if you would like to learn more about light colours.

In smaller living rooms, wall lighting might also be a good idea. Charming, wall-mounted reading lamps are not just a practical bedroom feature, they can also be great in a living room.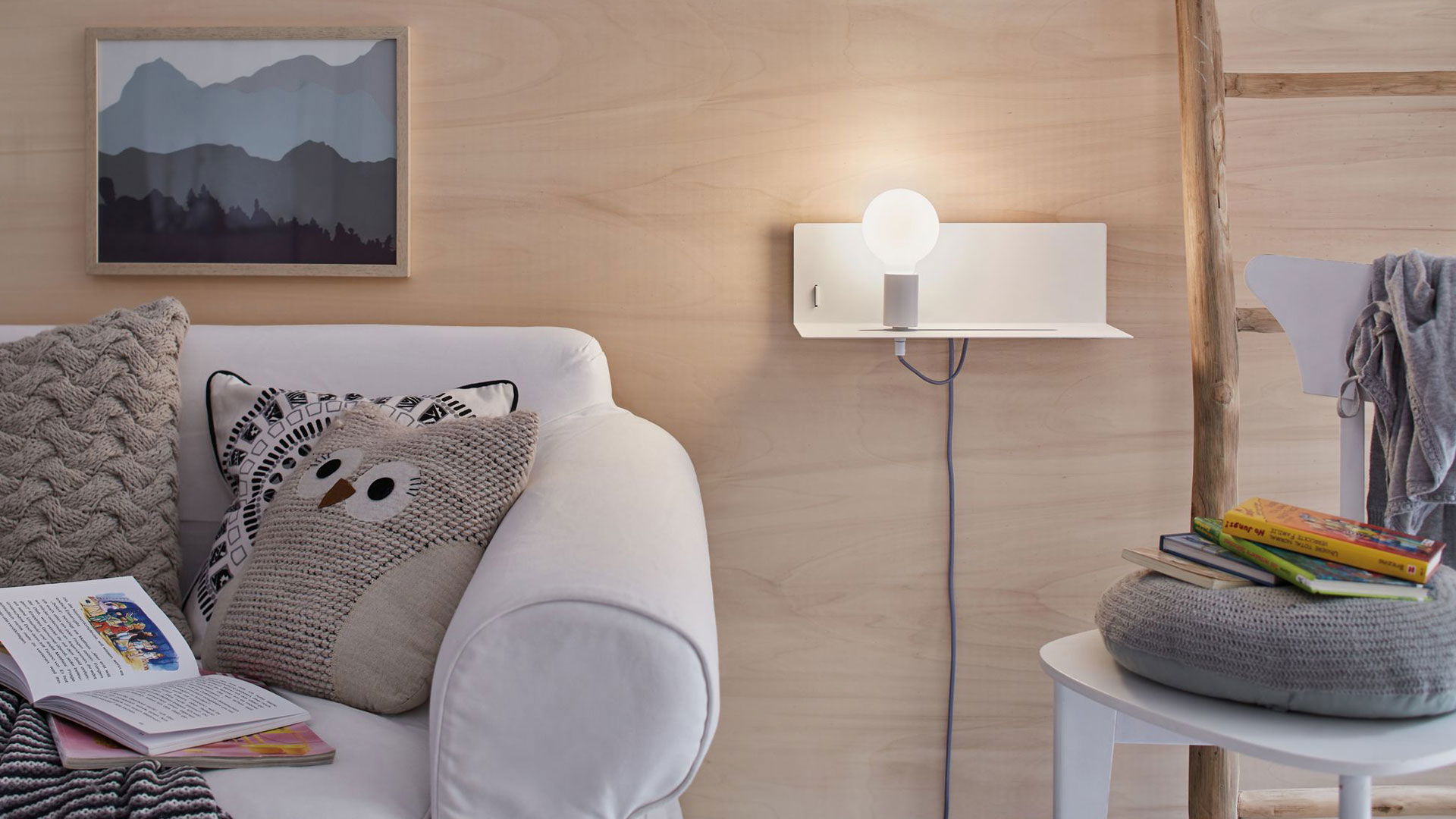 Pendant luminaires emit their light downward in a beautiful light cone and are perfect for creating a friendly and communicative atmosphere around the coffee table. Hanging lamps with an opaque lampshade are ideal, as they prevent glare.

3. Adding decorative light accents: Your personal feel-good space
While basic and zone lighting are mostly functional, your third element in light concept planning is accent lighting. In this type of lighting, luminaires create a feel-good atmosphere and a positive basic ambiance.

But a ceiling sail is not a must-have for becoming creative with indirect lighting: Attach LED strips to the underside of your sideboard, the bookshelf or the sofa for some interesting and beautiful indirect light effects in your living room. Practical: Alternatively, you can mount profiles along the walls of your living room and install the LED in these profiles. Alternatively, you might opt for a ceiling uplight if you are not a fan of LED strips.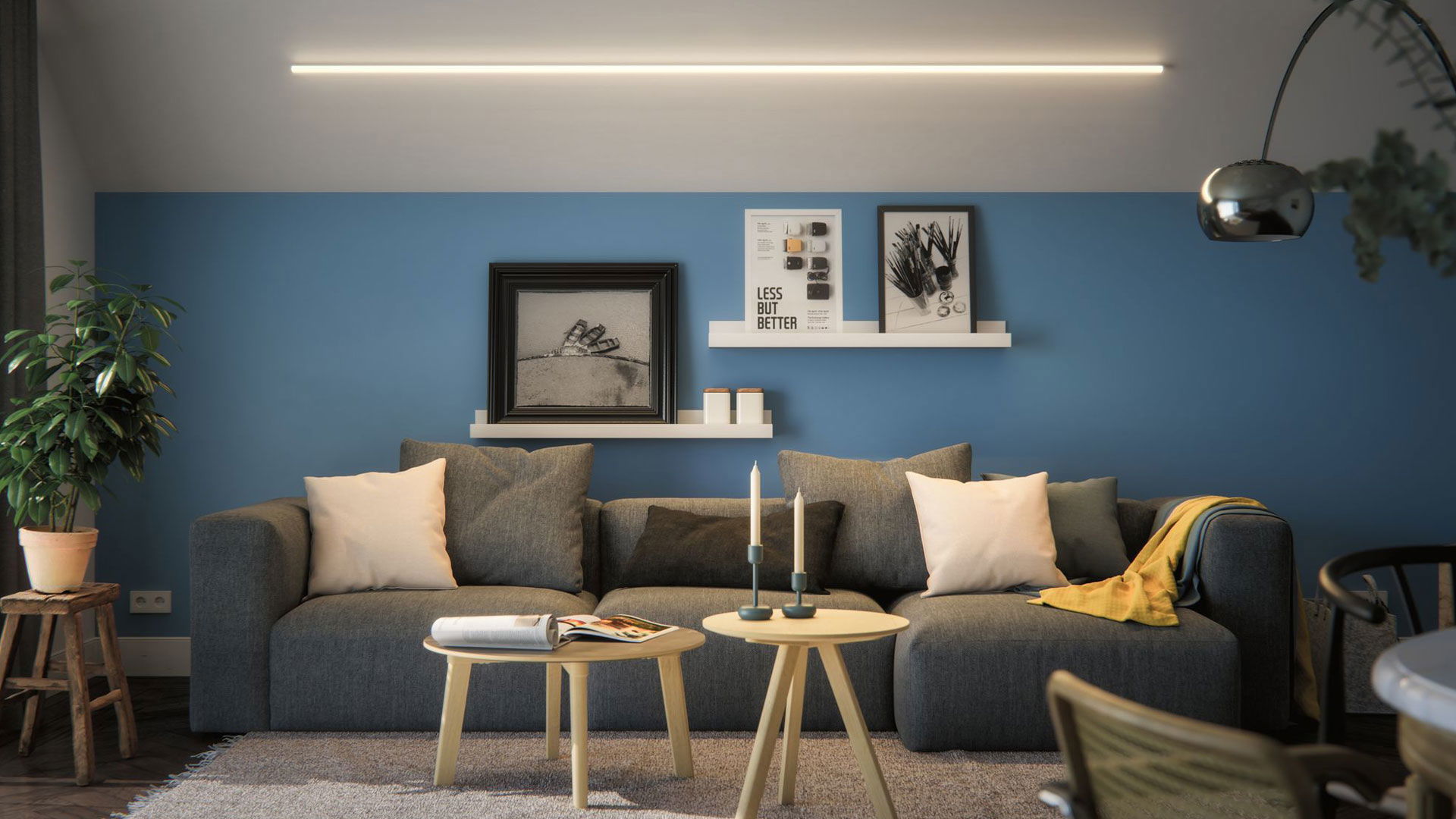 Indirect lighting is not the only way to create a welcoming atmosphere in the living room. There are more types luminaires you can use as exciting design elements for your living room lighting.
Table luminaires will help highlight decorative objects you love. Place it next to your favourite vase or a family photo on the shelf to draw attention.
Many living rooms are filled with souvenirs, memorabilia, photos and paintings. The kind of lighting we all know from museums and art galleries, can be easily recreated in your own four walls: spots and picture luminaires will bring out the beauty and special character of your favourite objects.

Plant luminaires are another way to create eye-catching focal points. These are available as pendant, table and floor luminaires, and accommodate small plants like succulents and cacti, which are then illuminated from above.

Plant luminaires will keep your favourite indoor plants healthy and promote growth, as they emit light at a wavelength of 1,700 Kelvin.

RGB living room luminaires let you choose between a countless number of colours from aurora green to ocean blue. And best of all: A little bit of effort and money is all it takes to amaze your guests at your next movie night. Attach some of our practical USB strips behind the TV for indirect lighting in various colours. Aside from the beautiful effect, indirect lighting will reduce the brightness contrast while watching television, which can make you feel tired.

Brightness is by far not the only deciding factor for how we perceive the ambiance of a living room. Light colour or colour temperature directly impact the way we feel in a room. Warm white light is always a fail-safe choice for the living room. Make sure to choose lamps with a colour temperature of 2,700 to 3,000 Kelvin for the luminaires you will use for basic lighting. This light colour is almost like that of the old light bulbs and therefore very popular. Alternatively, you might go for lamps labelled "tunable white". They allow you to choose a white tone that you like.
A warm white light temperature of around 3,000 Kelvin will usually be enough in your favourite corner to read a good book. LEDs with a colour temperature of around 5,300 Kelvin are a better choice if you want to use that space for more strenuous tasks. It will reduce strain on the eyes and help you concentrate.
Without a doubt, voice control is the most convenient form of smart lighting control for your living room. You can talk to Alexa, Google Home or other digital assistants to switch lights on or off and to choose a light colour or brightness.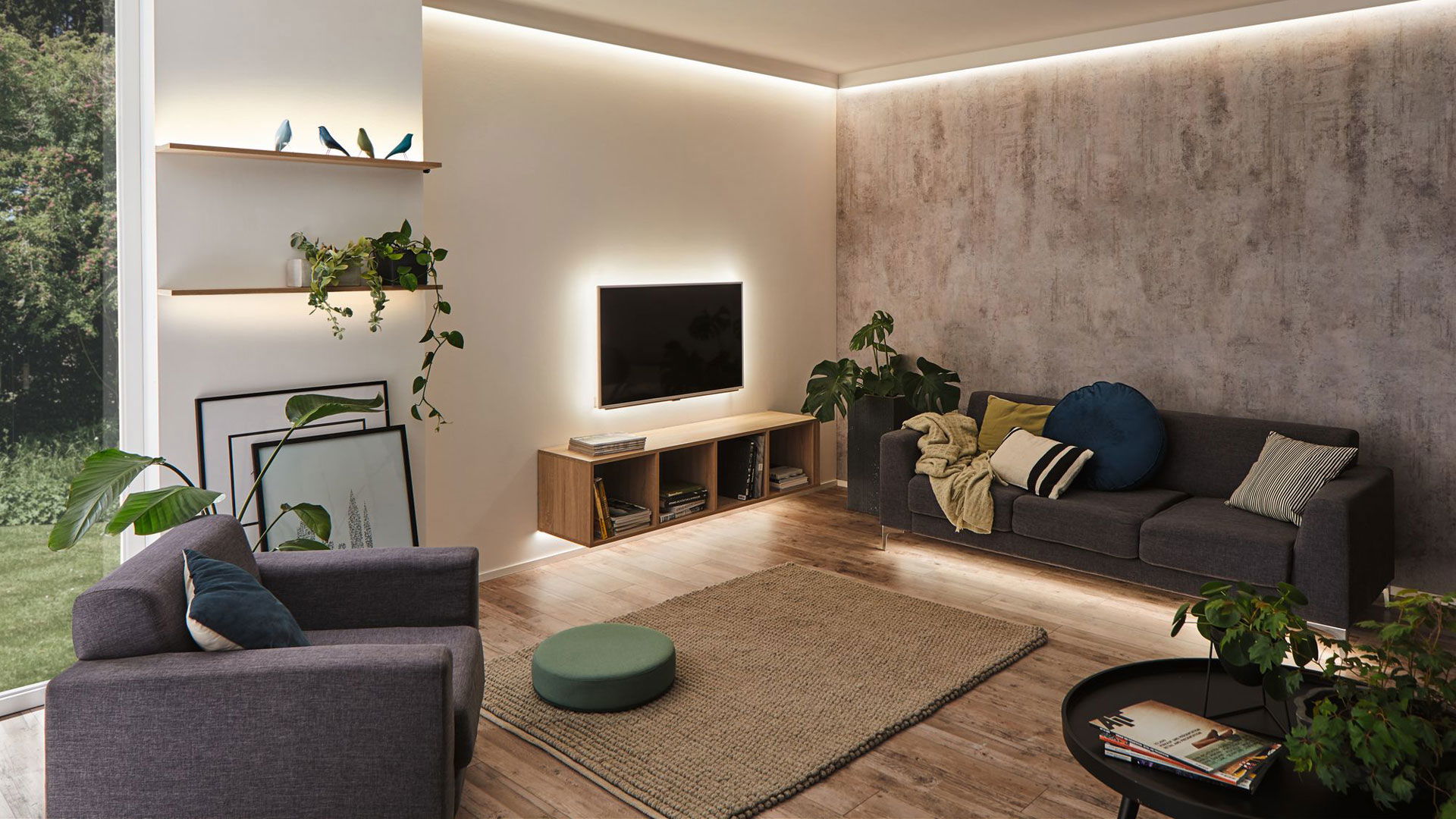 Living Room Lighting Overview
LED panels, recessed spotlights or pendant luminaires with translucent fabric shades help create good basic lighting. Aim for room lighting with at least 100 lm per square metre for optimal comfort.

Once that is done, focus on creating individual light zones. A great place to start are wall and floor luminaires for the living room.
Add some accent lighting for the finishing touch. Think about strategically placed table luminaires or LED strips for indirect lighting features for furniture or the TV.

Choose lamps with a light colour between 2,700 and 3,000 Kelvin for your basic lighting in the living room. Any place in the living room, where you will be doing difficult tasks should be illuminated in a neutral white tone with a colour temperature between 3,000 and 5,300 Kelvin.

Smart Home products in the living room make things a lot more convenient: smart light can be controlled using a remote, an app on your smartphone or tablet or with simple voice commands.