1. Explained in simple terms: What does Smart Home really mean?
A Smart Home is a home where multi-media devices and household appliances interact. There are specific processes that can be automated this way. Via a central control unit, the lighting, room temperature and more in a Smart Home can be individually adjusted at any time. Technology has advanced so far that you can easily control devices in your home while you are away, so that you will find your Smart Home just the way you like it when you get home. In times of Siri, Alexa and other digital assistants, voice control is also becoming increasingly more important.

By the way: The very first approaches for a Smart Home appeared as early as the 1970s. Extensive wiring was used to create an option for centrally controlling and monitoring all devices.

The real breakthrough for the Smart Home came with the development of wireless communication using WiFi, Bluetooth and the unstoppable advances in smartphone and tablet technology. Multi-media devices and household appliances were developed to not only receive signals, but also to "respond". This progress allowed communication with other devices and with us humans.
Today, there are countless products readily available on the market that are aimed at making your life easier: Intelligent heating and security systems, as well as smart light are just some examples. Smart Home has great potential for nearly all areas of our everyday life. Smart light is the easiest way to get started with creating your own Smart Home, as in some cases all it takes is a smart lamp for a luminaire or a smart device plugged into a simple wall socket.

2. How does Smart Home lighting work?
We basically differentiate between three types of smart light control:
The simplest option is smart light control via a remote. You can change colour temperature and brightness at the touch of a button. Smart RGB lamps give you control of exciting light accents in any colour of the rainbow.

Smart light control via smartphone or tablet is nothing but the next step in technology after the remote control. These products are controlled via Bluetooth or Zigbee. Both technologies offer different numbers of functions. Simply said, Bluetooth allows light control in a single room, while you can control all devices in your home via Zigbee. Have a look at our page "Bluetooth vs. Zigbee" for more information.
The new voice controlled digital assistants like Google Home, Alexa and Siri are the latest step in Smart Home development. Voice control is a great benefit when you are all comfortable on the couch and can dim the light or change the colour temperature without having to get up.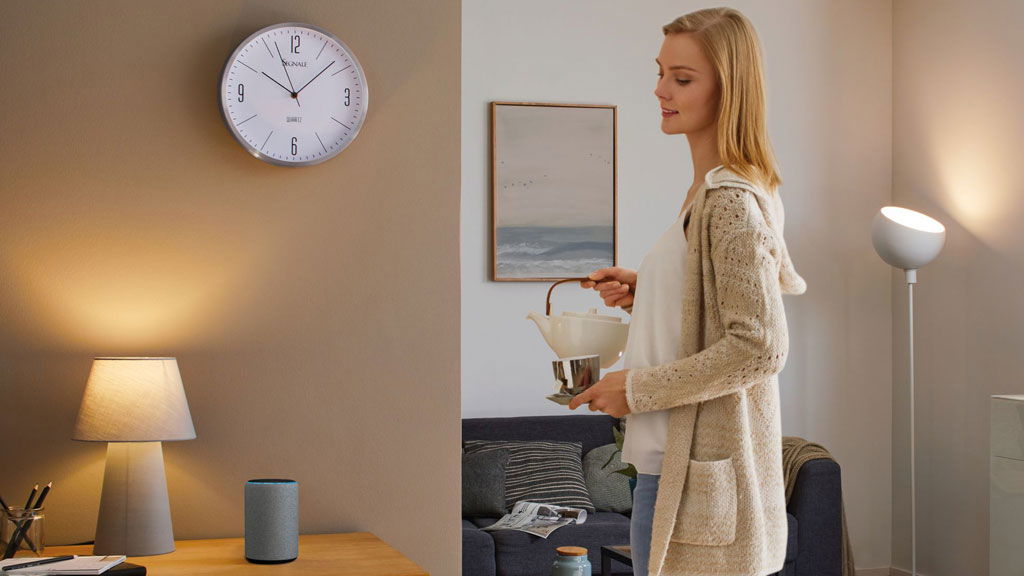 3. What are the advantages of smart light?
Households with smart lamps and smart luminaires use significantly less electricity than those relying solely on manual light control. Smart light is definitely worth your while long-term – in more ways than one. Smart light doesn't just save you money – it is also beneficial for the environment.
Security considerations are another big reason in favour of a Smart Home system. Studies have shown that burglars are less willing to break into a home where lights are on. Clever programming of your lighting in various rooms can make it seem as if you were at home – which significantly reduces the risk of a break-in.

Simply combine your home security system with your smart lighting system. You will keep burglars at bay and can alert neighbours if something is wrong.
Another advantage of smart light is that it helps to support the human biorhythm. A bit of clever programming and the right lamps will have you waking up in the morning to gentle sunlight. Over the course of the day, your lighting changes to daylight white work light for better concentration and more productivity. Towards the evening, your Smart Home will dim the light again to allow your body to wind down.
You can even assign specific voice commands to generate previously configured light scenarios for mood lighting. Your smart lighting will make sure that nothing will spoil the mood at your next party or movie night with friends.
4. Smart light: What products are available?
The spectrum of smart products is very wide. You can have smart light for indoors and also for outdoor use. Have a look at our category page
Smart Home Lighting
if you'd like to learn more about our smart luminaires.
5. Welche Steuerungsmöglichkeiten gibt es?
Mit voreingestellten oder selbst erstellten Szenen kannst du jede deiner Stimmungen und deinen persönlichen Tagesrhythmus schnell aufrufen. Starte zum Beispiel mit sanftem warmweißen Licht angenehm in den Tag, erhöhe deine Konzentration mit tageslichtweißer Beleuchtung und entspanne am Abend mit gedimmten Rot-Orangetönen. Stelle dir Automatisierungen ein, die regelmäßige manuelle Handgriffe überflüssig machen. Soll dein Badezimmer dich schon mit Licht begrüßen, wenn du morgens aufstehst? Wünschst du dir für einen bestimmten Zeitraum ein Nachtlicht mit anschließendem aktivierendem Morgenlicht? Kein Problem. Auch kannst du einen Timer nutzen, damit dein Leselicht im Bett von selbst ausgeht.
Um deine Umgebung in die Lichtstimmung deiner Wahl zu versetzen, findest du verschiedene Möglichkeiten: