Find out more about the following topics:
1. Garden path design: What do I Need to think about?
The possibilities for creating garden paths are virtually endless. The first thing to think about before choosing plants or lighting along the path must always be its actual structure. The following points are important:

Where should the path lead?
Garden paths may look a lot more interesting with curves or forks or corners, but essentially they should simply lead from A to B. Otherwise you might end up with unsightly "shortcuts" trampled into the lawn.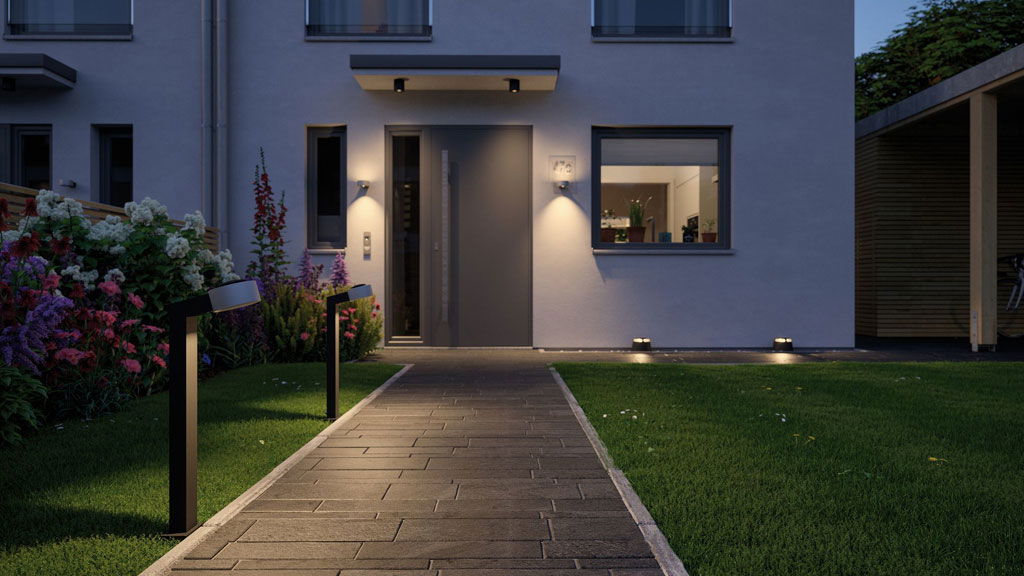 Garden path design: the right width
A path leading towards the house from the street should generally be wide enough for two people walking side by side. A width of 1.20 metres should generally suffice. A width of 60 cm is usually standard for other paths in front or around the house. Actual garden paths are generally no wider than 40 cm.
Think about barrier-free garden paths if you are planning to spend your golden years in this home. We recommend a path width of at least 1.20 metres to accommodate a walker or wheel chair. Also think about places to turn around – here, your garden path should have a width of 1.60 m.

Garden paths with elevation
Try to avoid putting in steps if you have multiple elevations in your garden. An incline is easily bridged with a slight curve in the garden path. The path will be safer to use and remains barrier-free.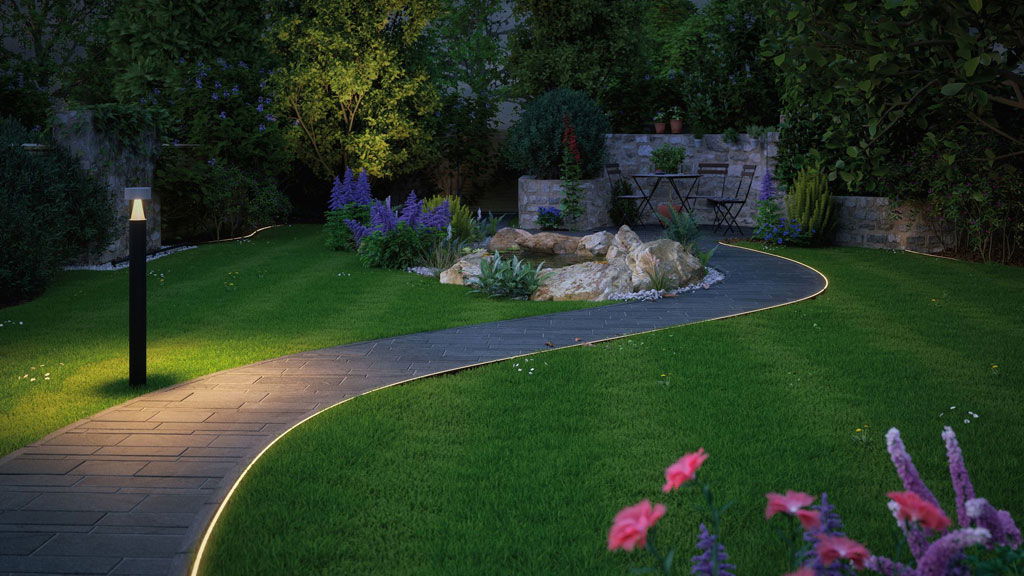 Tiles, concrete or decking for your garden path?
Whatever you choose, make sure the substrate is prepared correctly. Use rough, non-skid, porous stone or cobblestone to prevent water pooling on the garden path. Tiles and paving stones must be laid professionally with very narrow joints to not create areas where rain water is trapped. Loose gravel, for example, is not easy to navigate in a wheel chair.
Choose a colour for your garden path to match the design and colour of your home. Only then will you create a coherent and pleasing overall look.

2. What type of luminaire for garden paths?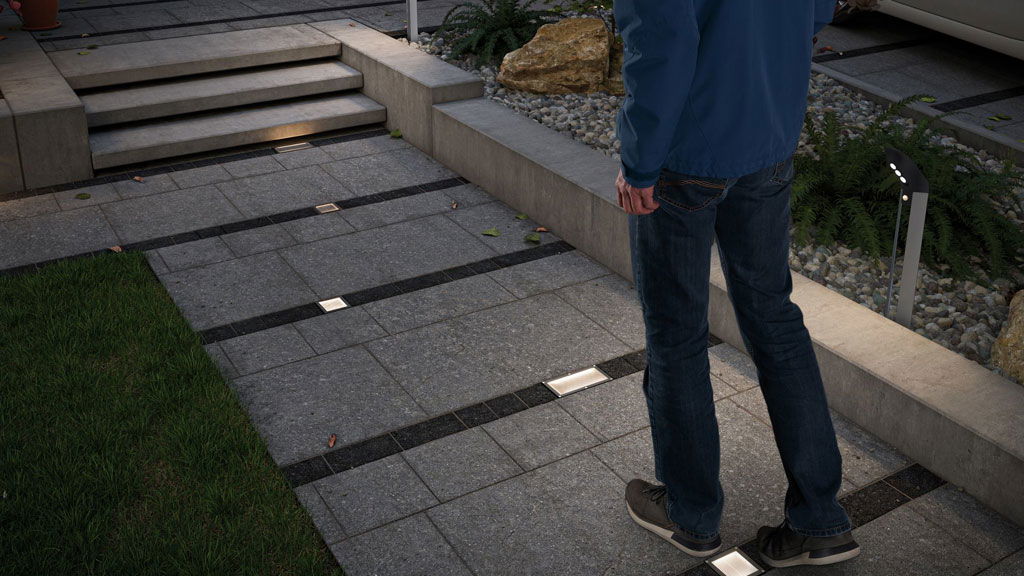 You have a multitude of options for lighting your garden path. Plus, depending on the type of luminaire you choose, the light effects will be different. Find out right here, which luminaire suits your concept.
Bollard lights are always a great choice for lighting up your garden path. These small light sources are great for orientation in the dark and keep you safe. The various beam angles of these garden luminaires also have decorative characteristics that will light up your path with distinctive character:

Bollard lights with a beam angle of 90 degrees are perfect for wider paths and allow for greater gaps between luminaires.

Luminaires with a 60 degree beam angle are better suited for narrower paths.
Bollard lights with a 360 degree beam angle are perfect for the side of the path, as they will also light up flower beds and other plants nearby.

We recommend bollard lights with a height between 50 and max. 120 cm to ensure you won't be blinded by the light. Where bollard lights are used in a driveway, a height between 120 and 150 cm is recommended to ensure they can be seen by the driver all around the vehicle to prevent accidents.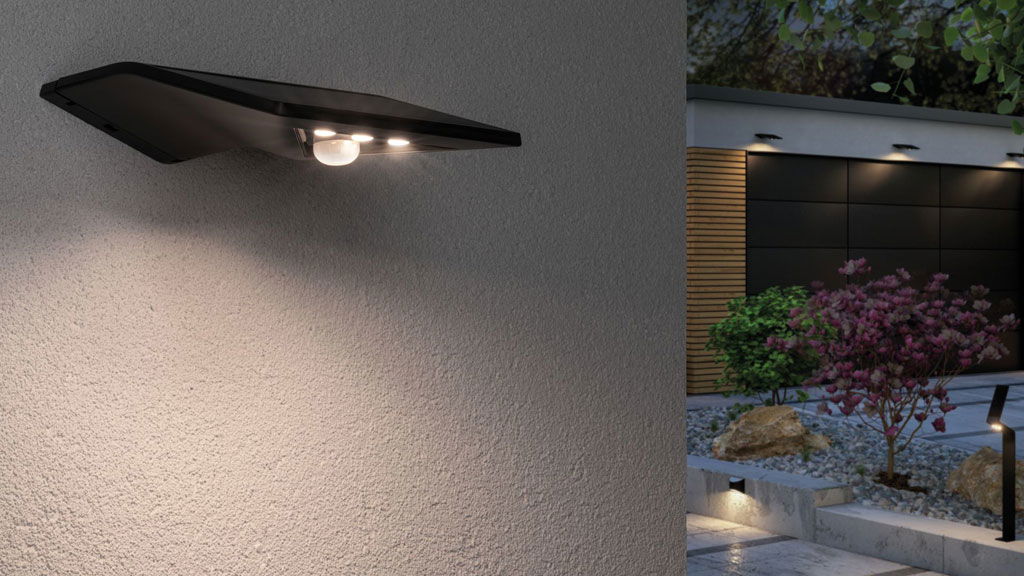 On-ground luminaires are the right choice for you if you prefer light close to the ground. They don't just light your way safely, they also create very attractive light effects. And don't forget: you can also install luminaires in your actual driveway. There are various on-ground luminaire models that can withstand the weight of a car without a problem.
In-ground luminaires are an alternative for on-ground luminaires. They are actually integrated in the surface of the garden path, just like a paving stone. Solar in-ground luminaires are particularly practical, as they charge up during daylight hours and illuminate your garden path perfectly at night.

Ground spikes or spots can be dotted around the garden where there are no paths to create small light accents. You can highlight individual shrubs or trees and create a wonderfully romantic ambiance for a little walk around the garden at night.

Outdoor LED strips are a new and exciting option for lighting a garden path. They are integrated in a waterproof plastic tube and can be routed along the side of the path for soft illumination – just enough to show you the way without tripping.

3. What should I think about when installing my path lighting?
Should you decide that you prefer having 230 V mains electricity connected for your pathway lighting, please make sure that the power cables are routed underground by a professional to prevent electrocution hazards. And because your pathway lighting will be subjected to all kinds of weather, it will be imperative to go with the correct IP protection class for outdoor use.

Paulmann Tip:
You should ideally only choose pathway lighting with IP67 protection. That will ensure that your luminaire is protected against the ingress dirt and – most importantly: water.

You don't really want to dig up your beautiful garden, just to light up the path? Then you should go with a low-voltage system like Plug & Shine for all your outdoor lighting. For this type of garden lighting system, all cables can be routed above ground and simply hidden behind plants or under gravel. Now you have no excuse not to change up your pathway lighting! All luminaires can be interconnected individually and can be replaced in minutes.
Solar-powered path luminaires are another alternative if you don't want to bother with cables at all. Installed in the ground, these lights need no additional power source to light up your garden path.

4. What will pathway lighting cost?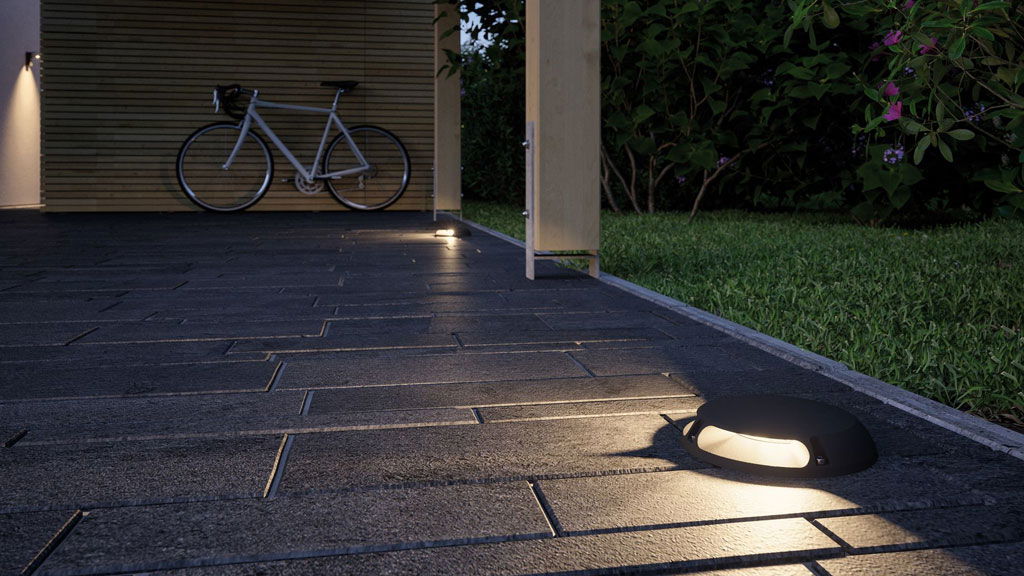 In most cases, a single luminaire will just not be enough to properly illuminate your access to the house or your driveway. Multiple luminaires, on the other hand, can result in a very costly electricity bill. We recommend using LED path luminaires to save electricity. In comparison with outdoor luminaires using traditional lamps, LEDS lamps will consume up to 90% less power and will keep your bill manageable. Long-term, however, solar lights are by far the most affordable alternative for pathway lighting. You only pay the purchase price one time and these luminaires will never cost you another penny.
Another cost issue is digging the trenches for the underground routing of 230 V mains power cables for pathway lighting – not to mention the cost for the electrician you will also need. We therefore recommend choosing a low-cost option like Plug & Shine as your garden lighting system, which you can put together safely and easily yourself. You need some help installing your path lighting? Watch our video for some simple instructions on how to install outdoor lighting.
Key Points for Pathway Lighting
The width of your garden path plays an important role if you plan to use your garden in your golden years. A path with a width of 1.20 metres will offer sufficient space for a wheel chair or walker, and you should think about providing areas to turn around as well (1.60 metres width).

Make sure to choose the right materials for the construction of your garden path as early as the planning stage of your home. Choose non-skid, rough and permeable stone or cobblestone to prevent localised water pooling and ensure safe footing.
IP67 protection is a must for protecting your path luminaires from particle and water ingress.
Solar lights with integrated LED technology are the most low-cost alternative long-term. Low-voltage systems will prevent excessive groundwork and electrician costs, which would be unavoidable for 230 V mains electricity pathway lighting.

If you prefer bollard lights for your path lighting, these should have a height between 50 to max. 120 cm to avoid blinding. In the driveway, however, bollard lights should have a height of at least 120 to 150 centimetres to ensure visibility for drivers.

In-ground and on-ground luminaires, as well as waterproof LED strips are a great alternative for bollard lights along the edge of a garden path. Ground spikes are an ideal solution for lighting up trees, flowers or shrubs away from the garden path.