1. How do I choose the right lighting for my home?
Outdoor lighting has so much more uses than just illuminating your garden or bringing light to your patio. You can choose low-key recessed or surface-mounted luminaires, or go for wall luminaires that highlight your façade with eye-catching light effects. Such light effects in particular, can bring life and style to the entrance to your home.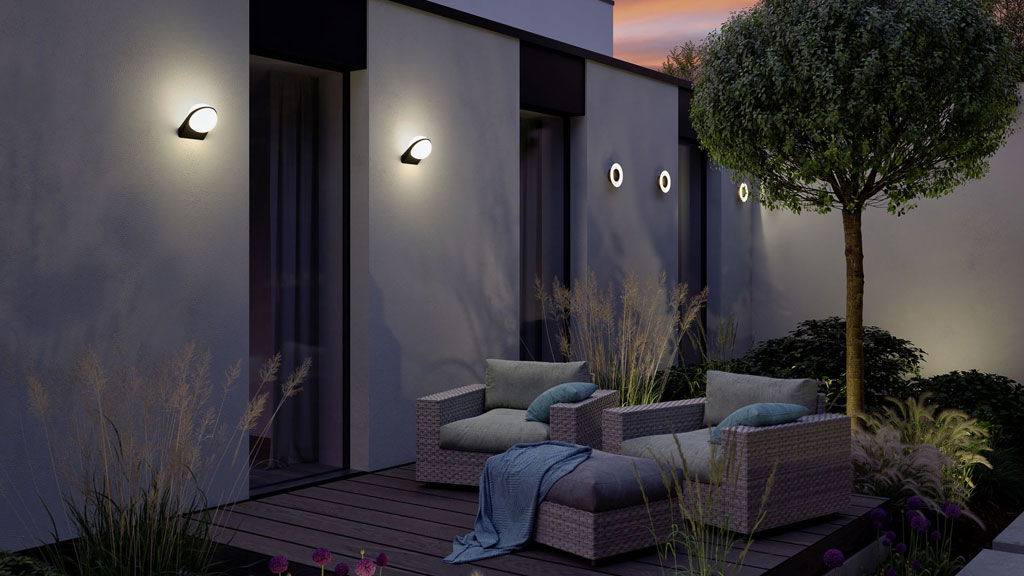 2. Light on the porch or under the roof overhang
The porch or an overhanging roof are great installation locations for direct orientation lighting with recessed luminaires if you want to bring light to the outside of your home.
Circumferential lighting creates a basic brightness all around the outside of your home, while highlighting the façades. The whole property appears upgraded, as the colour and external structure is displayed to best effect. Beyond pure aesthetics, there are many practical aspects for light all around your home – and it is a good deterrent for burglars as well.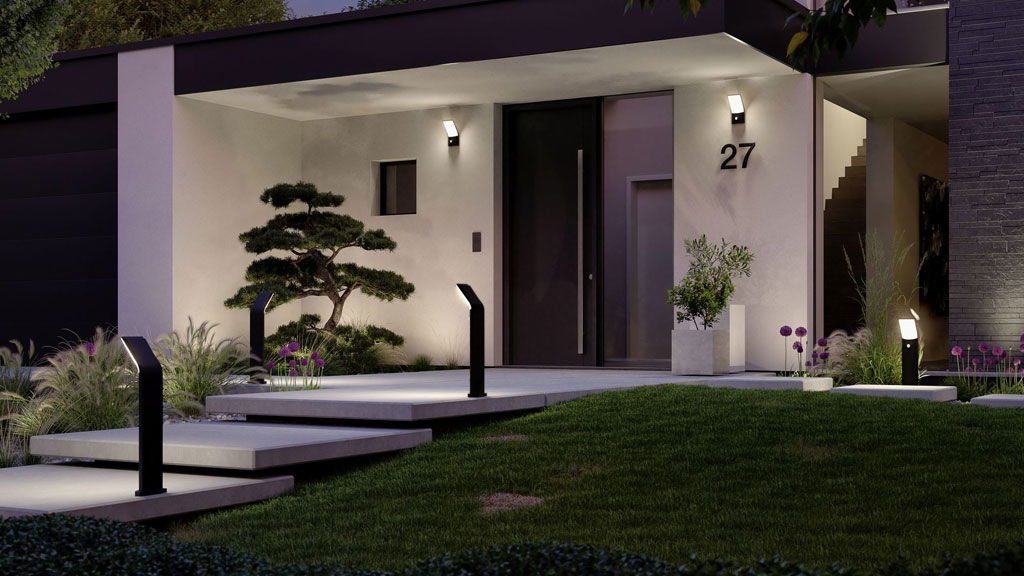 3. Lighting the façade
Wall luminaires are a great choice for lighting the outside of your home – as façade lighting or in the form of indirect, glare-free illumination of your entrance area. You can choose luminaires that suit the type of façade of your home. You can even be a bit creative in terms of style combinations. Traditional half-timbered houses, for example, can look great with modern LED façade lighting. There are various designs and models of outdoor wall luminaires to choose from: stylishly designed stainless steel spotlights are right on trend.
By the way, you can also have wall luminaire with replacement lenses for various beam angles. With these, you can adapt the lighting effect to your own expectations. The house number module is especially practical. It can be attached on the top or bottom of all Cone wall luminaires.

Make sure to choose the correct IP protection class when buying outdoor lamps to be sure that they are waterproof and splash-protected.

4. No outdoor power outlets on the façade for your outdoor lighting?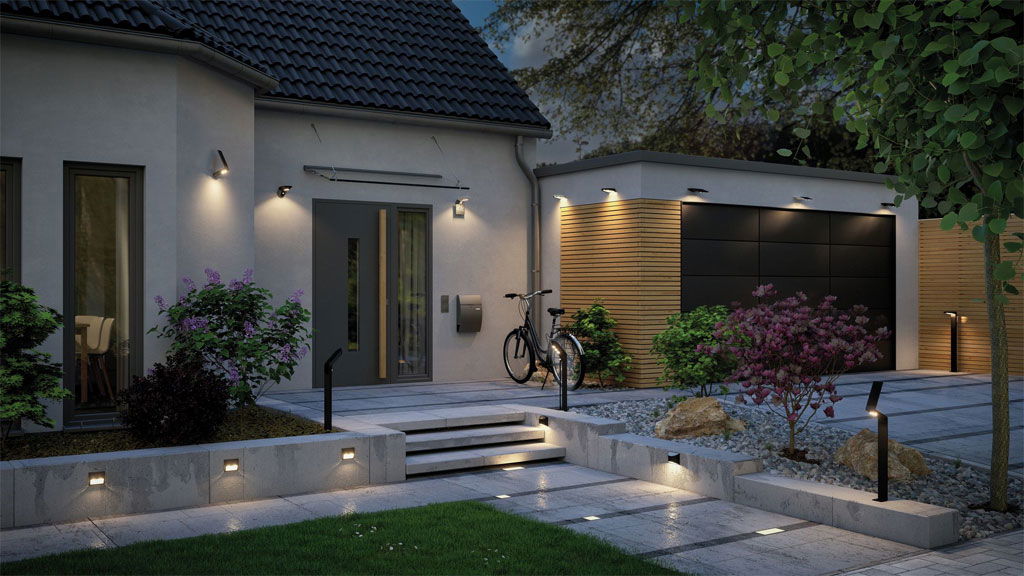 Your project "Home Outdoor Lighting" can often become a disappointment, just because you don't have a mains power source outside. Where that is the case, you might consider an outdoor lighting system like Plug & Shine as a good alternative. This system allows above-ground cable routing and you won't have to hire an electrician. You could, for example, use light bars to highlight your façade.
Solar lamps could be another option for you to get light into the darkness. These are available as ground spikes for the garden and also as solar outdoor wall luminaires.

5. At what height should outdoor lighting be installed?
6. What are the benefits of outdoor luminaires with motion sensor?
LED lamps or LED façade luminaires will save 90% of the power used by traditional incandescent lamps – but no building needs to be lit up all night long. They might even be annoying and prevent you from sleeping if you don't have proper blackout blinds. LED outdoor luminaires with motion sensor have the advantage that the sensor activates the lamp only when it detects movement in your outdoor area.


The sudden brightness will scare off burglars, as they prefer remaining unseen. That is exactly why you should also illuminate access paths to your house.