Jungle Look: A mix of many materials
Wood: This popular raw material plays an important part in Urban Jungle interiors. The type of wood you choose is completely up to you – you could even mix various natural woods to give your living space a bespoke overall character. Wood is also worth thinking about when it comes to planning your lighting concept. A good example are pendant luminaires with wooden lampshades. Wood creates a harmonious base hue and has a calming effect.
Cork: The wall paper with a lively jungle print, a potted or hanging plant here and there, solid wood furniture and a rattan rug. These could be your basic ingredients to create an Urban Jungle room. You can round off the look with a stylish pendant luminaire or table luminaire made of cork. This choice would be right on trend and will highlight your happy-go-lucky jungle look.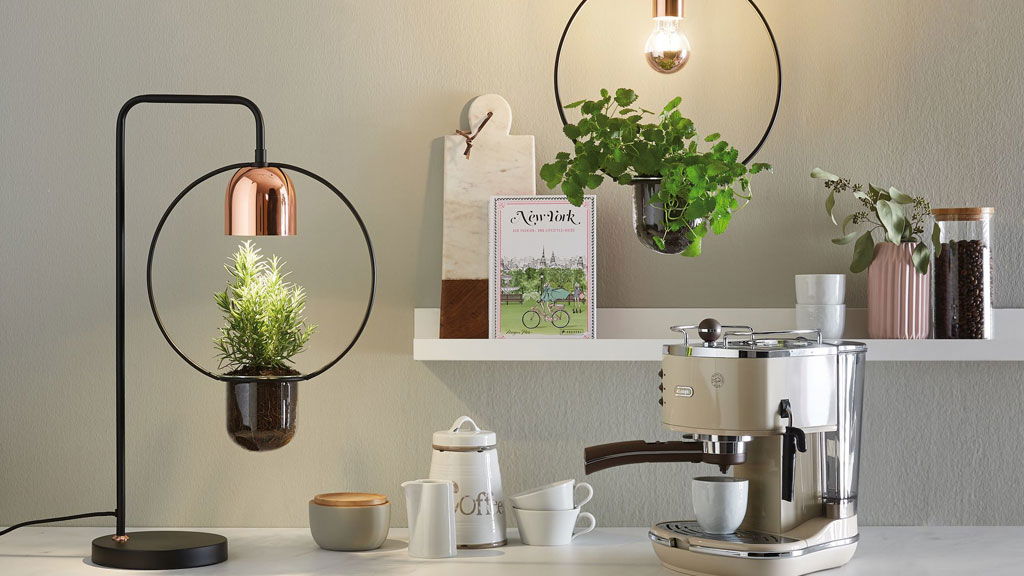 Marble: Aside from the imposing look of marble, this stone has for centuries been considered to be among the most luxurious of all natural materials. Marble columns and statues symbolise wealth and are the pride of place in many palaces. Black marble is a particularly cool choice if you want to create dark accents to give your lush green plants additional depth in your Urban Jungle interior concept. Just be careful not to go too dark and make sure to brighten up the overall look with some lighter colour elements. Gold filament lamps, for example, would be a great match, as they create a counterpoint for the black marble, but still underline its ornate character.

Brass: Right. Ok, we admit – brass is not a natural material. But its warm colour makes it a definite contender for this interior style. This metal has an appearance close to gold and will look amazing with the fresh greens of your urban jungle. In the right combination, you create a unique symbiosis for a harmonious overall concept.
Concrete: Taking this interior design style a little more literal is also not a bad idea. Think of plants that break their way through tarmac and walls of houses to bring back life to where it seems impossible for it to thrive. You can emphasise that image by adding concrete accents to your personal Urban Jungle. Table luminaires with this material are a great idea as a contrast for the lush green of your plants.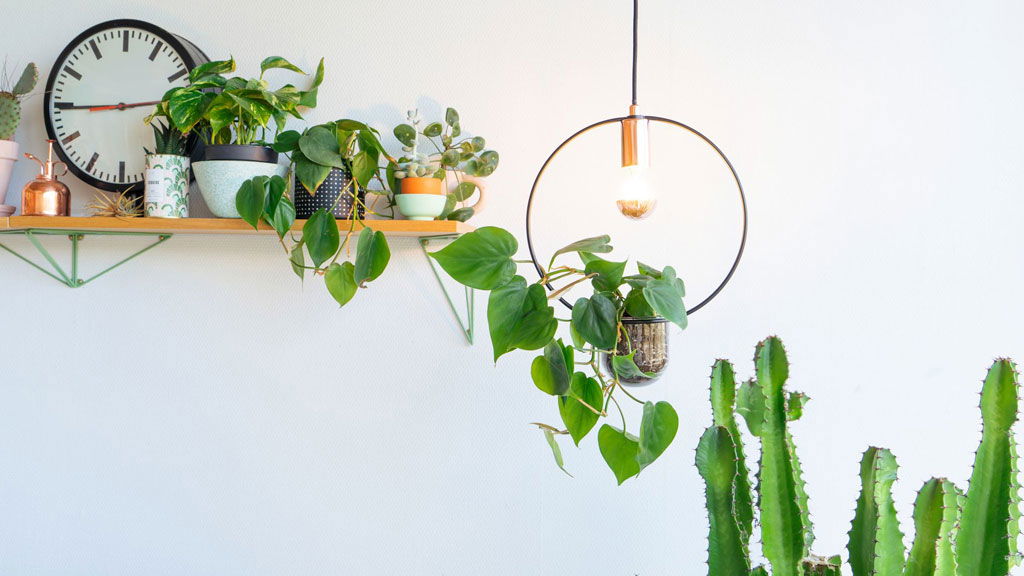 2. Mix & Match: Urban Jungle in a blend with other interior design styles
The most practical aspect of the interior trend Urban Jungle is the fact that it easily combines with other interior styles. Having plenty of plants will, for example, look great in combination with the bright colours and comfortable details of the Scandinavian look. Urban Jungle will also harmonise perfectly with the Industrial trend: Its cool look with raw brickwork and metal receives an exciting counterpoint of natural materials and opulent plants.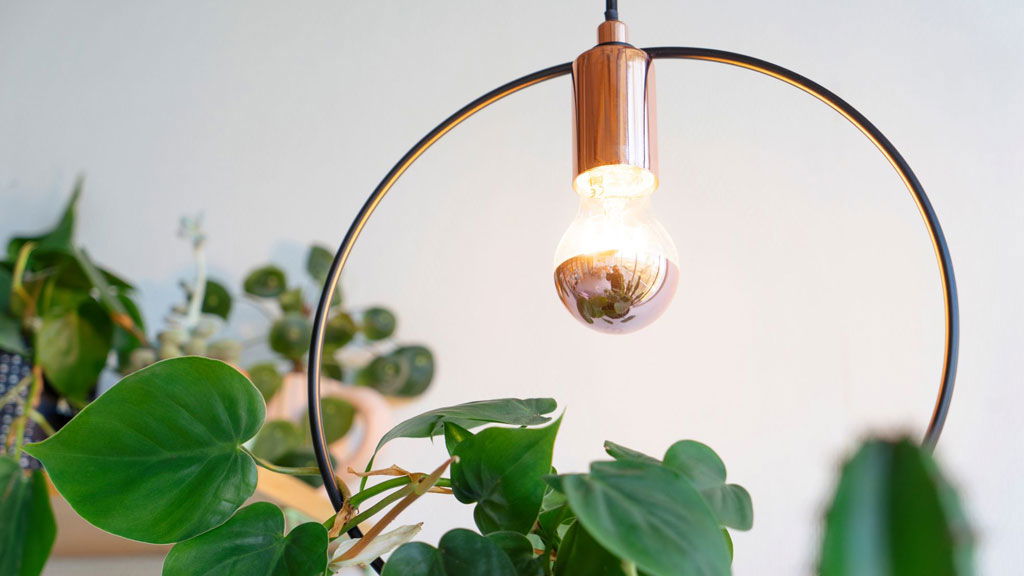 One big new fan was the Dutch influencer Fennat, who explains in her blog that the plant luminaire is a perfect addition for any (Urban Jungle) 'planterior'.

Also Joelix, founder of the popular Urban Jungle community 'urbanjungleblog', was completely blow away. She absolutely loves the plant luminaire design and the fact that you can create exciting contrasts with beautiful lamps and the outer ring.

4. The effect of plants in living spaces
One of the reasons why so many people are so excited about the Urban Jungle interior trend is probably the many benefits of plants.

The psychological effect of 'green'
One decisive factor has a psychological explanation: The colour green has a harmonising effect on the human psyche. This natural colour reminds us of meadows and forests, lets us wind down and relax.
An urban myth: Plants increase oxygen levels
Indoor plants do, however, have a crucial benefit: They ensure better air in your living area. That they do so based on their production of oxygen is only true to some extent. The amount of oxygen produced in photosynthesis is usually much too small to make a difference. We recommend opening the window for a few minutes if you really want to increase oxygen levels in the room.

Plants have an influence on humidity
In what way does my urban jungle improve the air at all then? Plants really do have a positive impact on humidity. During the colder months in autumn and winter, we are often forced to switch on central heating. The dry air causes our mucous membranes to dry out and we become more susceptible to illnesses. Other negative side effects of dry air are chapped lips, dry eyes and a scratchy throat. This is where indoor plants act as natural air humidifiers. Indoor plants re-introduce on average more than 90% of the water we give them back into the air, and therefore ensure a more humid indoor climate.
Paulmann Tip:
Plants can also be helpful for dust allergy sufferers. The higher humidity in the air creates tiny water droplets, which bind dust in the air and then slowly transport it downwards. As a result, a lot less dust is swirling around. The dust settles on surfaces and can be easily removed with a moist cloth.