Fluorescent lamp
Fluorescent lamp G5 480lm 8W 3000K Opal
£5.65*
Prices incl. Standard rate VAT
Ready to ship, delivery within 3-5 working days
Fast shipping
Free returns
Room light all around
The new slim line
Extremely long lifetime: 5000 h
Fluorescent lamp G5 480lm 8W 3000K Opal
Replacement for first-generation fluorescent lamps.
Room light all around
The new slim line
Extremely long lifetime: 5000 h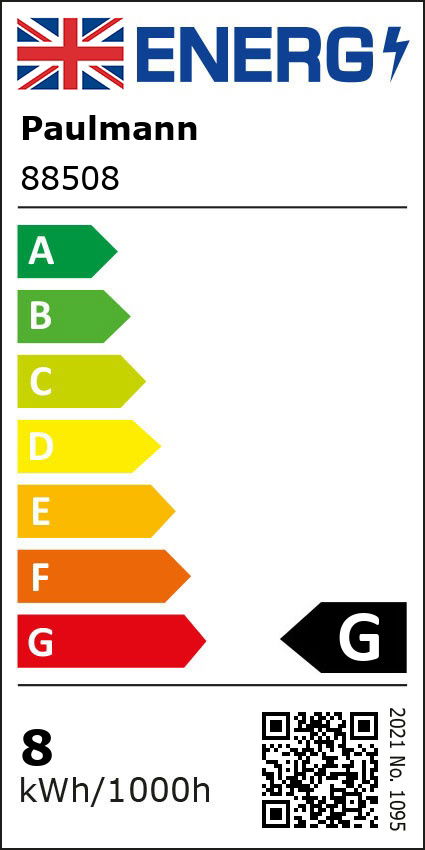 Dimension
Dimensions (Height x Width x Depth)
H: 301 mm
Ø
16 mm
Design and Material
Colour
Opal
Material
Glass
Energy consumption
energy efficiency (A to G)
G
Energy consumption
8 kWh_1000h
Lamp Energy conversion efficiency (50Hz)
100 lm_W
Service life
Lamp survival factor 2,000h
95
Lamp survival factor 4,000h
90
Lamp survival factor 6,000h
80
Lamp survival factor 8,000h
55
Lamp lumen maintenance factor 2000 h
85 %
Lamp lumen maintenance factor 4000h
80 %
Lamp lumen maintenance factor 6000h
77 %
Lamp lumen maintenance factor 8000h
75 %
lifetime
5.000 h
Rated life time
5000 h
Light Characteristics
Color temp.
3000 K
Useful luminous flux
480 lm
color temp
3.000 K
light color
830
Color rendering index
> 80 Ra
Rated luminous flux (Lumen)
480 lm
Lamp Features
Component parts
8 W
Technique
Energy Saving
Socket
G5
Type
Tube
Dimmable
No
fluorescent tube size
T5
Inclusive lamp
✓
Number of component parts
1x
Replacable
7 not concerned.
Labelling
WEEE-Reg.-No
DE 39236390